ReviewMIAMI HERALD FRIDAY, MARCH 2, 2012

Cavalia's New Show Even Tops the First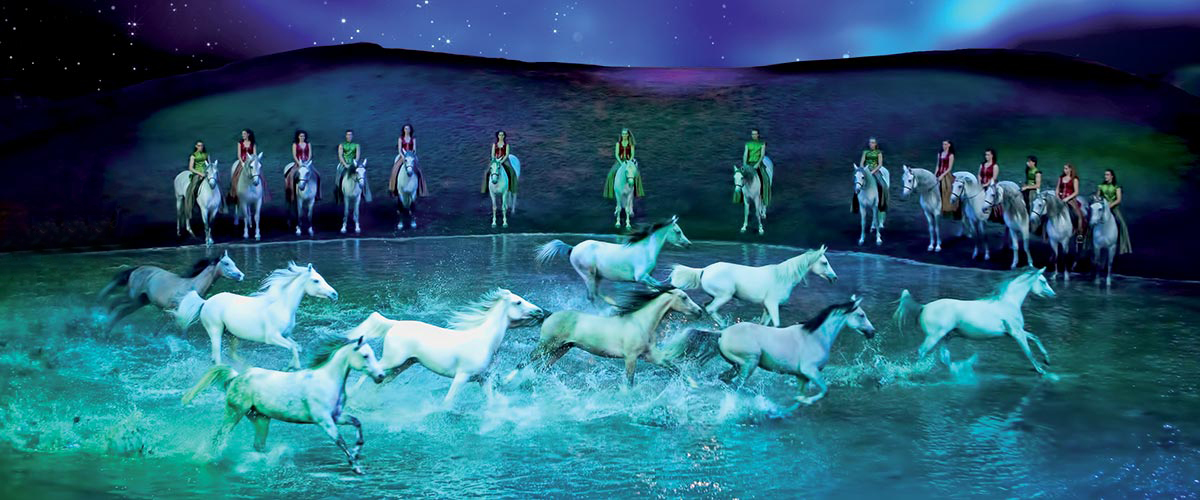 HOWERD COHEN
hcohen@MiamiHerald.com
The Cavalia's company's new show Odysséo is The Godfather : Part II, The Empire Strikes Back and The Dark Knight of sequels, a follow-up that bests the original in every sense.
In size alone, Odysséo is considerably bigger than Cavalia, the original horse and human extravaganza that enjoed an extended run at Bicentennial Park in 2010. The action plays inside a White Big Top that is more than twice the size of the first tent and larger than a football field. The stage, all 27,000-square-feet of it, has been extended to incorporate three-dimensional, IMAX-style projected images that paint not only the rear of the stage but also its surface.
There are more horses, more performances and a brilliant sense of pacing that moves from balletic grace to thrilling derring-do from two-legged to four-legged star alike.
But Odysséo isn't bigger in the essence of more fries in the value meal at a fast food joint. Show founder Normand Latourelle (who was a principal with Cirque du Soleil in the 1980s) couldn't put forth all that was in his imagination for Cavalia when he created it in 2003 because of that tent's physical limitations. Technology also hadn't kept pace with his imagination.
Odysséo wipes away those concerns from its pastoral opening as 10 of the show's 70 horses slowly materialize on stage in pairings. Some of the horses, whose 11 breeds are drawn from Canada, France, Netherlands, Portugal, Spain and the United States, roll on their back with feline grace. Still others mischievously tease one another with playful equine nips to the backside. The second half of the show opens with a gorgeous African plain at dawn as 30 horses and their trainers sleep cuddled together on the ground. Any expert on horse behaviour will attest that this feat, alone, is near unimaginable.
Another stunning image during the first act transforms what appears to be a projected mountain range, but is an actual man-made mountain range built from 15,000 tons of stones, dirt and sand, designed to Latourelle's specifications. When a number of horses stroll over from the top of the range toward the audience, just try and convince yourself you're not in the Old West.
The final set piece, Les Voyageurs/Liberté , could be, arguably, the most beautiful presentation Miami audiences have ever seen. Nine Arabian geldings begin to dance amid a projected waterfall at stage rear. One horses begins to dance, tenderly "toe pointing" and extending his legs as if a principal with Miami City Ballet. Soon, 80,000 gallons of water pools from under the earthen stage, forming a lake at the front of the house. Eight other Arabians gallop through it manes flying, heads help proud, and nick up water in a thrilling display of energy, lighting and texture.
Some of the Cavalia repeats, such as trick riders who race from one side of the stage to the other, while riding over and under their horses in one continuous movement, still amaze from an agility and strength standpoint. These audience-pleasers simply look better on the more lavishly framed stage.
Odysséo also offers more acrobatic feats than its predecessor, such as a charismatic African troupe who tumble and twist as if made from rubber and who lead an audience participation call-and-response number. A sensual routine in which performers hang off spiralling carousel poles and pose at gravity-defying angles only suffers a bit fron under lighting. But another aerialist routine, Tempête, featuring 12 performers riding aerial hoops, evoked one of those '70s eye-candy classic Hipnosis-designed Pink Floyd album covers.
If Walt Disney were still alive, he might create a show as magical as Odysséo. But it wouldn't be better than the wonderful world mastermind Latourelle has created under his White Big Top.