Odysseo a Tribute to Magic of Horses
Odysseo even more stunning than Cavalia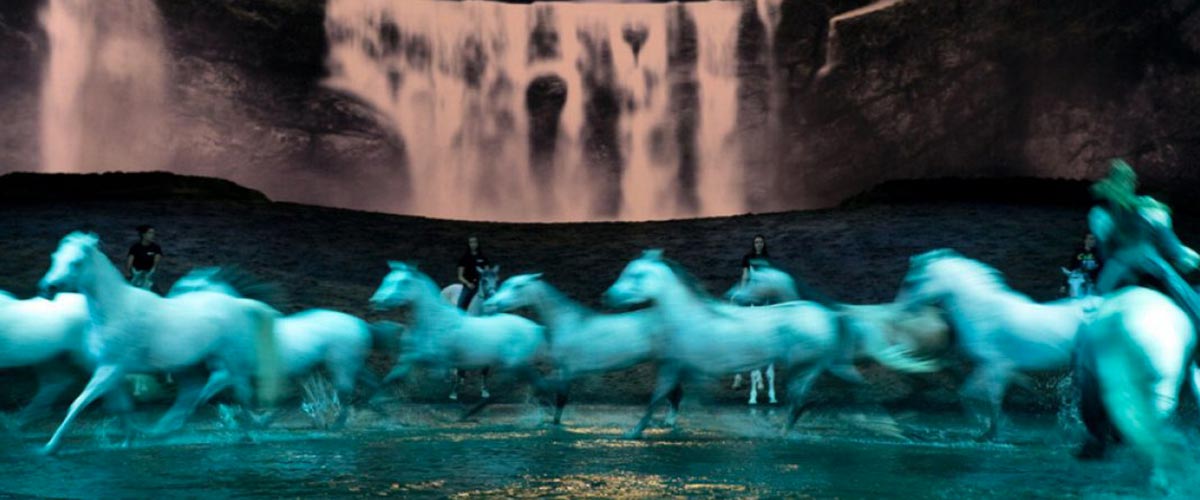 RICHARD OUZOUNIAN
THEATRE CRITIC
Odysseo
★ ★ ★ ★ (out of 4)
It's a horse of a different colour.
If you were impressed and delighted by Cavalia during its first two runs in Toronto, then be prepared to be totally blown away by its sequel, Odysseo, which opened Tuesday night in the Big Top at the Port Lands.
Once again, a combination of artistic vision, technical skill and sheer dedication has managed to combine horses and humans in a way that's nothing short of sublime.
How do you describe Odysseo? You could call it Cavalia Around theWorld, but that would be the easy way out. Still, it's not a bad window into this magical work that will make you laugh, gasp, cheer and even cry.
Once again, more than five dozen horses of ethereal beauty appear on the stage, sometimes on their own, sometimes ridden by men and women who know no fear, as they suspend themselves from their equine counterparts almost as though they were human saddles.
It's breathtaking stuff, but you'd be right in thinking you saw it all last time around.
Relax. That's what the creative team wants you to think. As soon as the dozens of multicultural dancers, the sweeping new mountainside scenery, the death-defying acrobats and the stunning visual projections are added to the mix, you'll realize you ain't in Cavalia any more, Dorothy.
In fact, you'll come to see that each one of the show's sequences is set somewhere else in the world where horses might run free and you start to applaud the genius of the concept, while enjoying the brilliance of the execution.
The rolling hills of the African veld offer us a verdant backdrop for tribal dancing and magical jumping while, a few minutes later, the spacious South American pampas bring us to a new kind of freedom for horse and rider alike.
A cerulean-hued Alpine nighttime scene helps create a giant carousel where real horses strive to be make-believe and the limits of what everyone can do is daringly tested.
Another flip of the switch from the visual design of Geodezik and the lighting of Alain Lortie, and we find ourselves in the Arabian Desert, where sleek white creatures test themselves against the sun and sand.
And the deep, dark forests of Europe provide the canvas against which a solo female beauty, reminiscent of the Lady of Shalott, creates sheer poetry with the horse that she rides.
It's all pretty spectacular stuff, with mountains soaring, water flowing, bodies hurtling through the air and the glory of horses treated as the mythic creatures they truly are, infusing everything with a rare power.
By the time we come home in a passage that places the company in a Canadian autumn against a background of luminous maples, you will be ready to leap to your feet and cheer the same way the opening night audience did.
Bravo to artistic director Normand Latourelle and his inspired creative team, who have seemingly done the impossible by coming up with a show even better than Cavalia.
Lightning can strike twice. It just did and it's called Odysseo.